Skip to Content
How to Hire a Roofing Contractor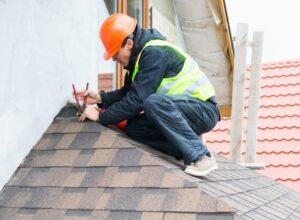 Hiring a reputable roofing contractor in San Jose, CA is crucial. An experienced, professional residential roofing contractor will ensure your roofing installation, repairs, and maintenance are completed safely and expertly, without risking damage to your property. Our team at Westshore Roofing has years of experience in professional residential roofing services. Our licensed roofing contractors are committed to providing the highest level of service and using the highest quality roofing materials on each and every job. Call us today or contact us online to schedule a consultation and find out why we're the best roofing contractors in the area.
Factors to Consider When Hiring a Roofing Contractor
In order to make an informed decision about the best roofing contractor to hire for your needs, goals, and budget, you should consider these factors when evaluating each licensed roofing contractor:
Experience & Reputation – The first factor you should evaluate when choosing a roofing contractor is their level of experience, and how long they have been in the industry. Look at their website to see if they confirm the number of years of experience they have. If you can't find that information on their website, you can try looking up their name or the name of their roofing company on your state's corporation commission or trademark website to see when they were established. You should also look for a portfolio of completed projects on their website or social media pages. If they don't have one online, ask to see one in person. If they don't have any record of completed projects, they might not be an established, trustworthy residential roofing contractor.
Licensing, Bonding, & Insurance – Next, you want to make sure they have an active license. Check your state's registrar of contractors to confirm they have an active roofing contractor license. You can also find out if they have any violations or complaints against them. Next, make sure they carry the appropriate level of insurance, and that they are bonded. Their insurance protects you from property damage they might cause when completing your roofing services. It also protects you if they don't show up, walk off the job, or do something incorrectly or unsafely. They should have comprehensive insurance, which will also protect you from liability if they are injured while completing your roofing services. While bonding isn't always required by the state, it is important. A surety bond protects you if your contractor doesn't complete the job, pay for permits, or pay subcontractors. Ask each roofing contractor for an insurance policy number, certification, and bond number before hiring.
Customer Reviews and Testimonials – Read through customer testimonials and reviews before hiring a roofing contractor. While all companies will occasionally get bad reviews or spam reviews from customers, it's a bad sign if the overwhelming majority of a roofing contractor's reviews are negative. You should also look for red flags in customer reviews. If customers say a roofing contractor didn't show up, complete the work, or obtain permits, or that they damaged their property, put their safety or the safety of their home at risk, or didn't conform to industry standards, you should choose a different roofing contractor. Check reviews from Google, Yelp, Angi, and other reputable sites. You can also review the roofing contractor's record with the Better Business Bureau to see if there are complaints.
Manufacturer Certifications – A roofing contractor should have certain certifications from roofing manufacturers. These certifications prove that residential roofing contractors have the experience and training necessary to provide specialized services and applications according to the manufacturers' standards. Without proper certifications, you risk your roofing contractor violating a manufacturer's warranty, or causing damage to your home. Our certifications include:

GAF Master Elite Program certification
Certainteed Governors Award
Services Offered by Westshore Roofing Inc.
Roof Inspections – Scheduling regular roofing inspections gives you early warning of roofing problems that will only get bigger and more expensive to fix over time. Our roofing contractors can conduct thorough, comprehensive roofing inspections that evaluate the overall condition of your roof, look for signs of damage and other problems, and identify areas that need special attention or repairs. Our roofing inspection services can extend the lifetime of your roof and ensure you remain in compliance with your warranties and homeowner's insurance policy. We look for:

Moisture
Mold, mildew, and algae growth
Leaks
Buildup of leaves, nests, organic materials, and other debris
Signs of pest and animal infestations
Damaged, broken, or sagging gutters
Damage to soffits and fascia
Broken or damaged seals or flashing

Roof Installation – We have over 30 years of experience in roofing installation. We can evaluate your budget, needs, goals, and aesthetics to determine the best type of roofing materials to use for a new roofing installation. You should consider a new roof installation if your roof is over 35 years old, the damage is so severe that roofing repairs would cost more than a new roofing installation, you want to improve the curb appeal and safety of your home, or you plan on putting your home up for sale soon. Our new roof installations can be completed in as little as three or four days, depending on the size of your home. We specialize in installing asphalt, fake slate roofing shingles, and metal roofing. Our roofing contractors are experts, and value safety and quality above all else. We balance cost-effectiveness with quality, and always keep your needs and budget in mind.
Roof Replacement – If your roof is too old or damaged for roofing repairs, our residential roofing contractors may recommend roof replacement. We offer accurate estimates for the cost of roofing replacement before we begin, so you can make an informed decision. We complete a comprehensive roofing inspection to assess the age, condition, and lifespan of your existing roof. We will then help you choose the right material for roof replacement: composition shingles, clay tiles, metal roofing, synthetic slate, wood shakes, concrete tile, flat roofing, or synthetic shake.
How to Select the Best Roofing Contractor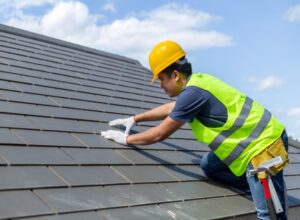 You can make sure that you select the best roofing contractor in your area by:
Obtaining Multiple Quotes – You should request and compare quotes from different residential roofing contractors. If a contractor won't do a roofing inspection or provide a quote, you should move on to another one. Comparing quotes helps you save money, and also gives you a chance to evaluate the trustworthiness of each roofing contractor.
Conducting Interviews and Site Visits – Meeting each roofing contractor in person helps you evaluate their communication skills and confirm that they are a good fit for your needs. You can get a sense of how their personality meshes with yours, and see first-hand how they approach their job. Ask the contractor for a rundown of how they approach each job, what their priorities are, and what an average workday looks like at a client's home. Find out how they communicate changes to clients, how they stick to a timeline and handle delays, and how they stick to a budget.
Checking Reference – Ask each roofing contractor for references, and check these references before you make a decision. You can either call or email each reference, and limit yourself to three or four key questions:

What job did you hire this roofing contractor for?
Did they complete the job in the agreed-upon timeframe for the agreed-upon cost?
Did you run into any problems along the way?
Would you work with this roofing contractor again?
Final Tips for Hiring a Residential Roofing Contractor
Some final tips to follow when looking for a residential roofing contractor:
Written Contracts and Agreements – Do not work with a roofing contractor who isn't willing to enter into a written contract or agreement. A signed contract provides protection to both parties. It should outline the scope of work, timeline, budget, materials and cost, where materials will be sourced from, whether subcontractors will be used and if so how they will be hired and managed, warranty and guarantee information, and the contingency plan should there be an issue with completing work on schedule or to cost.
Payment Schedule and Terms – Your contract should also include a payment schedule and terms. It should outline, in clear terms, the expectations for granting payment, and the milestones that must be reached in order for each payment disbursement to be made on schedule. It should also outline payment options and terms.
Ongoing Communication and Project Update – Finally, the contract or written agreement should agree to certain expectations regarding ongoing communication and project updates. You are paying for a service, and deserve an open line of communication throughout. Your roofing contractor or their assistant should be able to commit to providing timely updates via phone or email at certain key points throughout the job. They should also be willing to give you timely notice of any problems or delays that arise.
Contact Our Licensed Roofing Contractors in San Jose, CA
If you're looking for the best roofing contractor in San Jose, CA, call us today or contact us online. Our roofing contractors are licensed, bonded, and insured and come highly recommended. We pride ourselves on providing reliable, expert roofing services to each and every customer. We are Diamond Certified, have won the Angi Home's Super Service Award, are GAF Master Elite certified, and are a preferred contractor for Owens Corning and hold the Owens Corning Top of the House certification.