Skip to Content
Solar Roofing Services in San Jose
Installing a new roof?
Ask us about our GAF DecoTech integrated solar roof system where solar is part of the roof.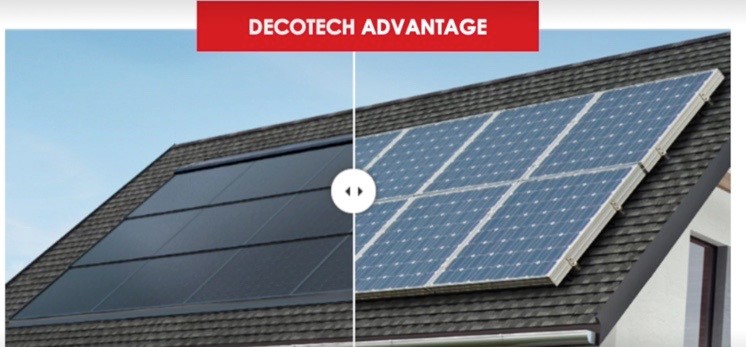 DecoTech solar panels are fastened directly to the roof deck to provide a sleek, aesthetically pleasing appearance. The panels do not have ugly white gridlines but are black on black.
Traditional solar panels are mounted onto an elevated metal rack that sits 6'' above the roof.  This method requires drilling holes in the roof to mount the metal rack and rails.
The DecoTech solar system is interwoven into the roof shingles with step and counter flashings similar to that of a skylight installation.
Right Image: DecoTech vs Conventional Solar Panels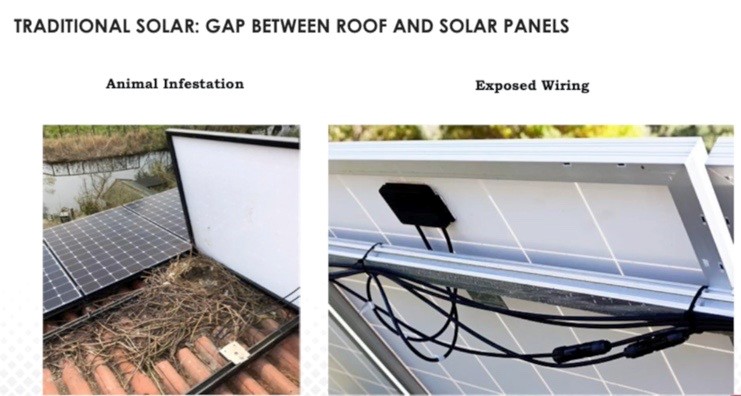 A common cause of roof leaks is debris building up on the surface of the roof restricting the downward flow of water. This leads to water migrating under the roof shingles resulting in water intrusion into the interior of the home.
With a traditional rack-mounted solar array, foliage debris can easily be trapped between the solar panels and roof surface so frequent roof cleaning and seasonal maintenance are recommended.
Dry combustible foliage sitting next to the electronics is a significant risk of causing a fire.
Due to the small space, debris removal can be very challenging. Often this requires the removal of panels themselves at a significant expense to the homeowner. A great advantage of the DecoTech, direct to deck system, means the system electrical wiring is not only protected from rodent damage but also exposure to the elements which can result in a reduced lifespan.

With a GAF asphalt shingle and GAF DecoTech solar warranty coverage is bundled into one single warranty called The GAF Sapphire Ltd Warranty.
This warranty covers:
Shingles
50 years non-prorated material coverage
30 years workmanship/Installation defect
Solar Modules
25 years manufacturing defects
25 years solar power generation coverage
Call Today for a Free New Roof Estimate!