Skip to Content
Sol-R-Skin™ Roofing in San Jose, CA
Learn About Sol-R-Skin™ Roofing
Sol-R-Skin™ is a roofing underlayment developed by Boral Roofing. It is thermal insulating and reflective, so it offers optimal protection from the elements while increasing the home's energy-efficiency. Roofing underlayments are important because they are waterproofing, offer energy-savings, and are insulating. At Westshore Roofing, we are a proud installer of Sol-R-Skin™ roofing in San Jose, CA. Our Sol-R-Skin™ roofing underlayment installation will add an extra layer of protection between your roofing materials and roof deck. Call us today or contact us online to schedule a consultation for installing Sol-R-Skin™.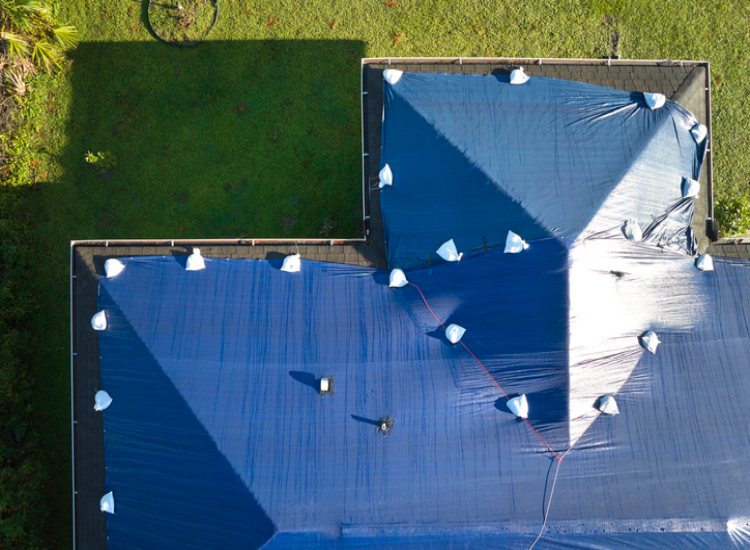 Understanding Sol-R-Skin™
Sol-R-Skin™ is a blue roof underlayment that increases your roof's thermal insulating and reflective capabilities. This means your roof is UV-resistant, more energy-efficient, and has an anti-glare coating. The Sol-R-Skin™ underlayment uses two energy-efficient materials: a radiant barrier aluminum surface, and a fiberglass mat. It also offers Class A-rated fire protection and protection from weather conditions. Sol-R-Skin™ is manufactured using sustainable practices and environmentally friendly materials. It offers superior performance and durability when compared to traditional roofing underlayments. Installing Sol-R-Skin™ blue roofing underlayment will also afford you increased energy savings and long-term benefits: increased lifespan of your roof, reduced wear and tear, less risk of damage, and quality, durable materials.
Energy Efficiency – Sol-R-Skin™ blue uses two of the most energy-efficient materials to improve heat reflection. It consists of a radiant barrier aluminum surface, which reflects heat, and a fiberglass mat, which offers a second layer of heat resistance. Their overall rating is R-5.5. The benefits of such efficient heat reflection are reduced cooling costs, less heat transfer, and a more comfortable indoor temperature.
UV Resistance – Sol-R-Skin™ is also incredibly UV resistant and utilizes an anti-glare coating. This UV-resistant coating prevents weather damage, stands up to extreme temperatures and fluctuating temperatures, prolongs the lifespan of the roof, and extends its warranty.
Enhanced Waterproofing – The Sol-R-Skin™ underlayment is a heavy-duty waterproof layer that reduces the risk of water damage, moisture buildup, roof leaks, and mold and mildew growth. Installing Sol-R-Skin™ can reduce your roof maintenance and roof repair costs. If you live in a region with heavy rain or extreme weather conditions and temperature fluctuations, Sol-R-Skin™ offers an amazing return on investment.
Sustainability – Sol-R-Skin™ is manufactured using sustainable practices that reduce carbon emissions and fight the effects of climate change. The materials used in manufacturing are environmentally friendly. Installing Sol-R-Skin™ also lowers your carbon footprint by reducing energy loss and increasing energy-efficiency.
Installation Process and Compatibility
Sol-R-Skin™ comes in thin rolls for easy installation, and is fully compatible with a variety of roofing materials. Each roll of underlayment is shipped as a 4 square roll measuring 4.5' x 100', 12" diameter, weighing 45 pounds. This makes it much easier to install. The underlayment can be quickly nailed in place, using an adhesive strip at the headlap to provide wind uplift resistance. Here's a look at the Sol-R-Skin™ installation process:
Sol-R-Skin™ should be stored in a dry, protected area before installation.
It should only be applied on roof slopes 2:12 or greater in one layer.
Roof deck should be clear of all debris.
The underlayment should be applied above properly-vented spaces. The foil side should be up and parallel to the eave. Edges should be lapped 6 inches with the tape tab facing the ridge and towards the exterior. The product has pre-printed lines that can be used as a guide. Cut the underlayment to size with scissors for easier installation. The underlayment should be installed so that it is smooth and flat against the roof deck.
Unroll the roll and fasten with corrosive-resistant plastic cap nails with a minimum 1" diameter. Do not use staples. Space each nail at 6" on center at vertical laps, and 11" on center horizontally. The nails should be spaced 13" on center vertically and 22" horizontally inside the perimeter to secure it in place until the roofing material is installed.
The next row should be offset by 6 feet and overlapped by 4". Vertical seams should be dealt with double-sided tape. Overlap each roll so that the tab facing the eave aligns properly with the markings on the previous roll.
You can walk on the underlayment when it is dry.
Choose Us for Sol-R-Skin™ Installation
Check out our online gallery of completed projects to see examples of our roofing installation, repairs, and other services. Westshore Roofing is proud to be an official installer of Sol-R-Skin™ in the San Jose, CA area. Please contact us for details on Sol-R-Skin cost and availability in your area.
Call Today to Learn More About Sol-R-Skin™ in San Jose, CA
To learn more about the benefits and features of Sol-R-Skin™ in San Jose, CA, contact us online or call us to schedule a consultation. Sol-R-Skin™ offers energy-savings, a durable and reflective underlayment, superior waterproofing, and fast installation. Investing in Sol-R-Skin™ cost will offer a long-term return as you will have lower roof maintenance and repair costs, and the value of your home will increase. Consider installing Sol-R-Skin™ roofing underlayment for long-term roof protection and energy-efficiency.
Call Today for a Free New Roof Estimate!