Skip to Content
Durable Flat Roofing
Flat roofs are a long-lasting option designed to combat damage from weather, UV rays, and more. Westshore Roofing, Inc. offers installation of IB Roof Systems and ASC Silicone Roof Coating. Both materials are the energy efficient and sustainable, providing long-term savings potential.

IB Roof Systems
Westshore Roofing, Inc. is an authorized installer of the IB Roof System. IB membranes are designed to stand up to chemicals, UV rays, and the elements of nature while providing a watertight and virtually maintenance-free roof. IB Roof Systems has roofs over 30 years old and still performing well.
IB Roof Systems applies a top finish to all of our membranes to help keep them cleaner longer, increasing their reflective properties, reducing energy consumption, and reducing the urban heat island effect.
IB Roof Systems voluntarily submitted their white membrane to the CRRC (Cool Roof Rating Council) for a 3-year evaluation and earned one of the highest ratings for reflectivity and emissivity. Because of the high reflective life of IB Roof Systems membrane, there are considerable energy cost-saving benefits as well, lowering energy consumption and the utility bill.
Advantages:
Warranty: Our system comes with a 100% lifetime residential manufactures warranty. Your roof is covered as long as you own your home.
Fire Resistant: The IB roof system has a Class ''A'' rating for flame resistance.
Ponding Water: IB Roofs are uniquely formulated to withstand ponding water. Moisture will not pass through the IB membrane. Ponding water will not affect the performance or warranty of the IB Roof system single-ply membrane.
Energy Saving: A white IB membrane can reduce your energy consumption and your rising electric bills. By reflecting up to 90% of the heat that normally enters a home through the roof, an IB roof will lower your home's heat gain, and it might well pay for itself.
A Green Choice: IB membranes are designed to be 100% recyclable.
ASC Silicone Coating
A Breathable membrane possessing superior weathering and water resistance characteristics. ASC Silicone – Silicone is 100% inorganic and is the second most common element on earth. It is 28% of the earth's crust and found in sand, silicates, and many minerals like quartz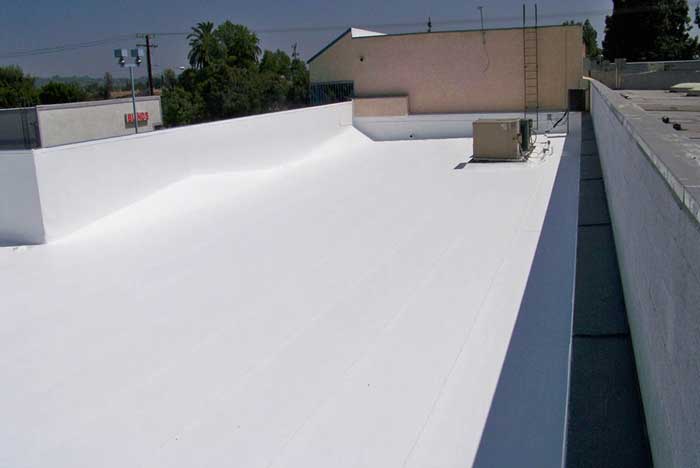 The Benefits
ASC S Silicone Roof Coating is a one-component, moisture curing silicone rubber roof coating system designed for use on existing smooth surface BUR, granulated cap sheet, well-adhered acrylic coating, concrete, metal, sprayed-inplace polyurethane foam and various single-ply membrane roofing. The system provides long-term protection because it resists weathering, aging, oxidation, wind-driven sand, rain and snow, the effects of ozone, ultraviolet radiation and the temperature extremes typically found on roofs. With its high solids content and absence of hydrocarbon solvents, ASC S can be applied in excess of 40 mils in a single coat without blistering, while maintaining maximum adhesion. ASC Silicone Coating is available in custom colors. Call us today for a free new roof estimate!
Call Today for a Free New Roof Estimate!