Skip to Content
Metal Roofing in San Jose
Fire-Resistant Metal Roofing in Northern California
Northern California & the Bay Area's Go-To for Metal Roofing
Westshore Roofing, Inc. is Northern California and the Bay Area's most trusted name in metal roofing. If you're tired of high maintenance roofing that doesn't give you peace of mind, consider replacing your roof with a metal alternative. Metal roofing is gaining popularity and is an excellent choice for homeowners in Northern California and the Bay Area. To find out more about metal roofing, look no further than Westshore Roofing, Inc.
Numerous Options for Any Style
At Westshore Roofing, Inc., we give our customers a wide variety of metal roofing options to choose from. Our stone-coated steel and metal roofs are designed to last, no matter the manufacturer or look you pick. Here's a quick overview of our fire-resistant metal roofing materials:
Boral Pacific Tile
Mimics the elegance of hand-split wood shake and combines it with your choice of wood tones and accents.
Boral Barrel Vault Tile
Gives your home the look of a traditional Spanish tile roof while maintaining peak functionality.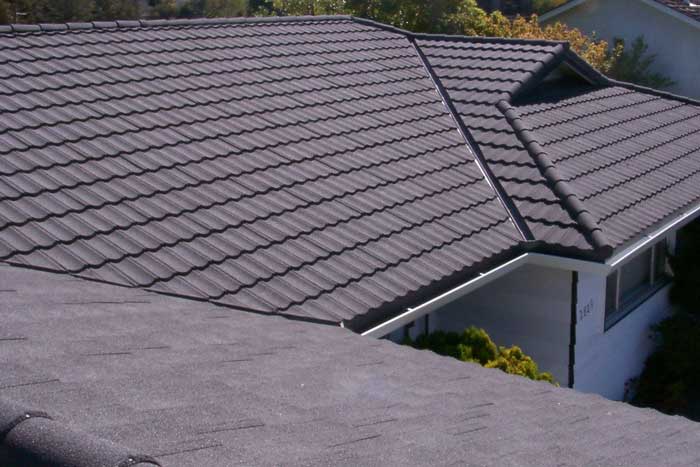 Decra Tile
Provides your home with a Mediterranean look using lightweight steel.
Tilcor Metal Roofs
This roofing option is one of the most reliable on the market today. Choose from a wide array for colors and styles without compromising durability. Tilcor metal tile roofs can be designed to match any homeowner's aesthetic and provide the lowest carbon footprint of any available roof.
Standing Seam Metal Roofing
These roofs are typically seen on barns and commercial buildings but can be perfect for your home as well. Their most prominent feature is the raised seam than interlocks panels together.
Endless Advantages of Metal Roofing
Many homeowners' picture of metal roofing is one that only includes unstylish commercial buildings and facilities. However, when you use Westshore Roofing, Inc. it doesn't have to be that way. Metal roofing for your home comes with countless benefits that will put you at an advantage over other Northern California homeowners.
Fits any aesthetic: As you can see with the many varieties of metal roofing offered by Westshore Roofing, Inc., you can design your roof to look any way you please. Metal roofing can fit any style, from modern to traditional. It can be designed to replicate the natural look of cedar or slate and is available in numerous color choices. Your metal roofing options are only limited by your imagination.
Fire-resistant: All of the metal roofing solutions installed by Westshore Roofing, Inc. have a UL Class A fire rating. That means your Northern California or Bay Area home's roof will be effective against severe fire exposure. When you live in an area prone to forest fires, fit your home with a roof built to withstand the threat.
Lightweight, yet durable: Metal roofing can be significantly lighter than other materials like shingles or tile. Metal roofs can last up to 80 years with this reduced amount of stress on its structure. What's more, this lightweight material doesn't compromise durability. Fire-resistant metal roofing is a durable choice for your Northern California home that will require little maintenance.
Environmentally friendly: The metal roofing installed by Westshore Roofing, Inc. is environmentally friendly. Some roofs are made up mostly of recycled materials. When your metal roof comes to the end of its life, it's 100% recyclable. Our fire-resistant metal roofing is an excellent roofing solution for environmentally-conscious homeowners.
Metal Roofing is a Money-Saving Solution
Your fire-resistant metal roofing can save you money in more ways than one. The roofs installed by Westshore Roofing, Inc. are energy efficient. Several styles come with an EnergyStar tax credit. Further, an energy-efficient home means lower utility bills for you. Since metal roofing makes your home cooler on those hot Bay Area days, you'll save on air conditioning. Plus, if you're planning on selling your home eventually, a metal roof can increase your property value.
Don't DIY Your Metal Roof
Now that you've heard the pros of fire-resistant metal roofing, there are a few cons as well. You won't be able to do-it-yourself with this style of roofing. Installation tends to be more difficult than other typical materials. Because of this, you'll want to hire a professional roofing contractor to install your metal roof. If you live in Northern California or the Bay Area, you're in luck! Westshore Roofing, Inc. provides customer-oriented installation services at a reasonable price.
Common Metal Roofing Myths
Now, let us dispel some common myths about metal roofing. Many homeowners are concerned their roof will make a lot of noise when it rains. However, your metal roofing comes with solid sheathing and underlayment that cancels the sound of rain beating down. The myth that a metal roof is likely to attract lightning strikes is false as well. Metal roofs don't attract it, and should lightning strike, the energy will be dispersed. Plus, metal roofing is fire-resistant, so your lightning fears can be put entirely to rest. Maybe the most prevailing myth about metal roofing, however, is that they're too expensive for the average homeowner. The initial cost may seem expensive, but when you factor in all the savings on energy bills and repair costs, metal is actually less costly. You won't have to replace a metal roof from Westshore Roofing, Inc. for 50 years on average, so after installation, you'll have few additional costs.
Contact Westshore Roofing, Inc. Today
If you're ready to protect your Northern California home against forest fire and reap all the other benefits of metal roofing, get in touch with Westshore Roofing, Inc. today. Don't pour money into subpar roofing materials when you can have it all with metal. Don't compromise on style, function, or fire resistance. Contact us now!
Call Today for a Free New Roof Estimate!