Skip to Content
Metal Roofing in San Jose
Metal Roofing Available to All
Once upon a time, metal roofing was only for wealthy people with fancy houses. Recently, however, it has gained in popularity and has become more and more common. This increase in popularity has led to a decrease in the cost, making metal roofing affordable to more residents throughout San Jose, although a metal roof is still more expensive than other materials.
Westshore Roofing, Inc. can help you determine if metal roofing is the right option for you.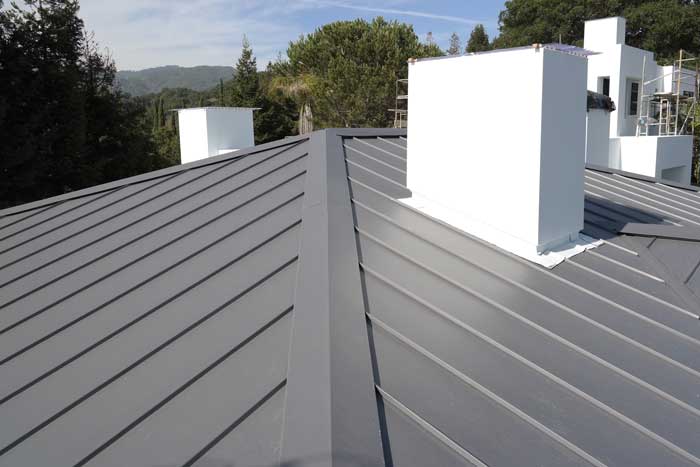 Metal Roofing Facts
Metal roofing can be installed over your existing shingles.
It's just as quiet as any other roof material.
Metal roofs are very slippery and become even more so when wet! That's why they should only be installed by professional roofing experts such as the ones you'll find at Westshore Roofing.
Metal roofing isn't more lightning-prone than any other kind of roof. In fact, it is less combustible than most other roofing materials.
If a metal roof sounds like something you might want for your San Jose property, give Westshore Roofing a call today! We are expert installers of metal roofing and can answer any of your questions. We look forward to hearing from you!
Stone-Coated Steel/Metal Roofs
Stone coated metal roof panels are available in many different styles and colors. They are designed to simulate the authentic look of wood cedar shake or Mediterranean tile.
We offer products manufactured by Boral and Decra.
The roof panels consist of a strong, 26 gauge metal armor that has been coated with zincualume corrosion inhibitors, epoxy primers, and other protective layers to provide a permanent roof product that will not crack, break or curl. A thick coating or ceramically-fired earth-stone granules are then applied to give lasting beauty that tenaciously resists the harmful effects of sun, wind, rain, hail, and snow.
Warranty: 50 year – lifetime manufacturers transferable warranty.
Wind: The best in the industry. 120 mph
Weight: The lightest roofing material around. At only 1.5lbs. / sq.ft stone coated metal roof systems are up to eight times lighter than clay or "lightweight" concrete tile. The interlocking feature of these products improves the structural rigidity of a home. This is an important consideration when living in an earthquake-prone environment.
Fire Rating: UL Class A
Walkable: 26-gauge Galvalume Steel
Insulation: Good, Lowers energy cost. Most of these roofs are installed over an elevated batten system. This for allows airflow underneath the roof panels. Metal does not retain heat, unlike asphalt shingles and cools down quickly.
Installing a radiant barrier directly underneath the wood batten system, blocks 97% of radiant heat from entering the building and reduces attic temperature 25 – 30 degrees.
Boral Roofing
Westshore Roofing, Inc. is proud to offer Boral Roofing products. Boral Steel has been selling metal roofing and shingles for over 40 years. They use their experience in the roofing industry to create the highest quality, durable steel roofing available. Not only do Boral roofing products offer natural, eye-catching colors, they also offer superior protection against all types of weather.
Boral Pacific Tile
Boral Pacific Tile is designed to emulate the natural elegance of traditional hand-split wood shake, and is available in several wood tones and accent shades.
Boral Barrel Vault Tile
Boral Barrel Vault Tile replicates the appearance of traditional Spanish tile roofs providing you with unsurpassed performance and natural beauty.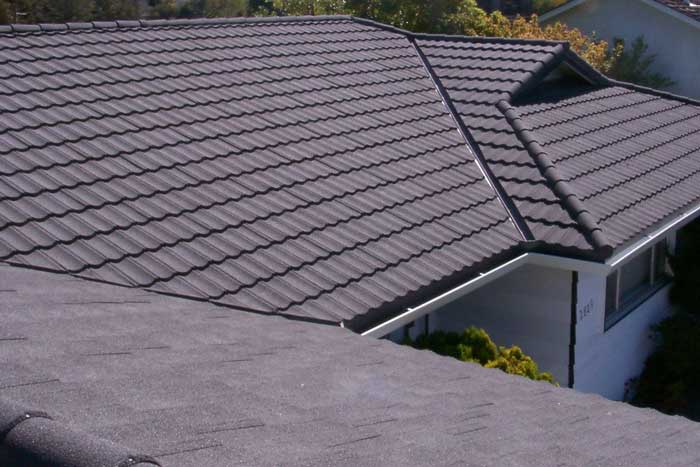 Decra Tile
Offering the beauty and style of Mediterranean tile and lightweight stone coated steel.
Decra Shake
An ideal alternative to traditional shake roofing. It offers the richness of cedar shake, while providing the durability and longevity of stone coated steel.
Tilcor Metal Roofs
Tilcor metal roofs are lighter than a concrete or clay tile roof, more durable than an asphalt shingle roof, and easier to handle than long-run corrugate sheets. It is the best reliable and affordable roofing system in the marketplace and offers an extensive choice of profiles, styles, and color options. Tilcor's wide range of designs and colors give you the ability to match traditional or modern architectural styles.  In term of delivery to the job site, Tilcor metal tile roofs are cost effective roofs for transportation and provide the lowest carbon footprint of any roof on the market.
Standing Seam Metal Roofing
When most homeowners begin thinking about a metal roof, all they can envision are the roofs they have seen on barns and commercial buildings. Those types of metal roofs typically have panels that run vertically up the roof. These types of metal panel roofs are called "Standing Seam" because their prominent visual feature is the raised interlocking seam which joins one panel to the next.
Metal roofing has a higher initial cost than other roofing materials; however, your metal roofing investment will save you time and money in the long term. Compared to asphalt shingles, metal roofing has a longer lifespan (15-18 years vs. 60+ years), requires only annual maintenance, and reflects heat, making it more energy efficient than a traditional asphalt roof. These benefits make metal roofing a better long-term investment for your home.
The Benefits of Energy Efficient Metal Roofing
As reported by the Cool Metal Roofing Coalition and the Oak Ridge National Laboratory, installation of reflective metal roofing can save your home up to 40% in summer cooling energy costs while highly emissive metal roofs can reduce urban air temperatures by as much as 12°F. These benefits mean less money out of your wallet, less dependence on energy resources and less general air pollution in your neighborhood and across the nation.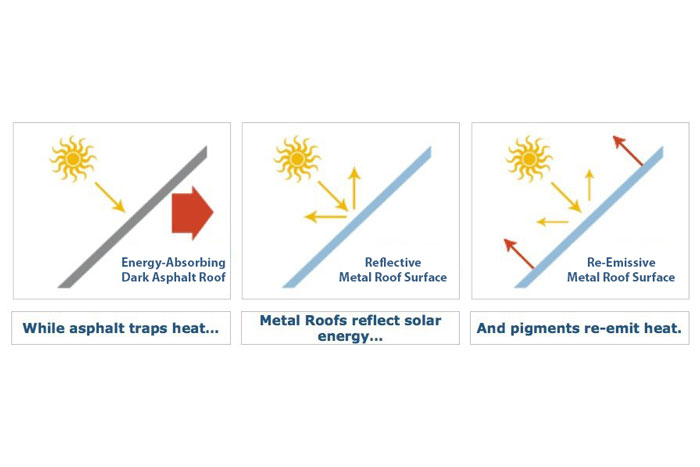 Energy Savings
The secret to metal roofing's energy savings is in its variety of finishes. The basic, unpainted metal roof will reflect much of the solar radiation usually absorbed in your attic and home by an asphalt roof. But, for homes in warmer climates, pre-painted or granular coated metal roofing systems not only reflect solar energy but also cool your home by re-emitting most of what solar radiation is absorbed. Where annual cooling loads dominate, a highly reflective and highly emissive painted or granular-coated metal roof is optimal for reducing energy consumption and can actually re-emit up to 90% of absorbed solar radiation.
Additionally, most metal roofing, including standing seam, is composed of recycled material and can be installed directly onto an existing asphalt roof, reducing landfill waste and promoting quick installation as well as decades of environmentally-sound, maintenance-free strength and beauty.
Call Today for a Free New Roof Estimate!