Skip to Content
Roof Installation in San Jose, CA
Exceptional Roof Installation Services in San Jose, CA
Westshore Roofing Inc. is San Jose's Roof Installation Specialist
Westshore Roofing Inc. has delivered roof installation expertise to homeowners in and around San Jose, CA for more than 25 years. Our team of professionals can confidently explain the installation process to you and deliver superb roofing services for your home. If you have leaks in your attic, cracked or curled shingles, or ever-increasing energy bills, call us to discuss your options. We are committed to only using the best materials and ensuring you are satisfied with the results. A new roof installation by the experts at Westshore Roofing Inc. is guaranteed to protect your home and keep it looking great. Contact us today to schedule your free on-site visit and estimate.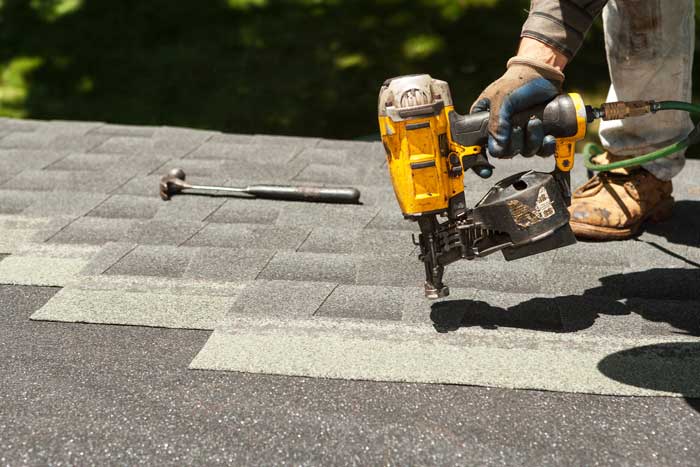 Understanding the Roof Installation Process
The new roof installation process may take as few as three or four days, depending on the size of your house. The process is similar whether you are starting anew or merely replacing a section. If you are replacing a single section, a professional contractor from Westshore Roofing Inc. will visit your home in San Jose, CA to assess any damage before beginning the process on your home. If you are installing a new roof entirely, we will take a careful approach to ensure precision and excellence. You can trust our team to provide high-quality installations that will last. Our steps include:
If replacing an existing roof, we will begin by removing all shingles.
If necessary, we will replace any bad or rotting wood with new plywood and make any other minor repairs.
Install an ice guard membrane to prevent melting ice from penetrating your sheathing and causing severe moisture damage.
Install asphalt roofing paper atop of the sheathing. Asphalt roofing paper serves as an inner barrier against water penetration.
Place metal drip edging around the edge, its eave sides, and gable sides. We will secure the metal drip edging over the asphalt roofing paper or ice guard.
Apply new valley flashing in the areas where the two planes meet. We will nail this element to the deck before sealing it with it caulk.
Install shingles by starting at the eaves and working toward the peak.
Apply flashing around all areas prone to leaks, such as against the chimney and around stack vents or skylights.
Install a ridge vent along the peak of the roof to promote air circulation in the attic space.
Clean the work area and haul away debris.
Recognizing What Type of Roof to Install
The next step is deciding what type of roof you would like to install on your home in San Jose or the surrounding areas. The various styles have a wide range of prices, looks, and grades. Our team of professionals at Westshore Roofing Inc. is happy to help walk you through the decision-making process so you can be confident in your ultimate selection. Roofing types from which to choose include:
Asphalt roofing – The most popular choice in the industry is asphalt. Asphalt shingles comprise fiberglass that is sandwiched between ceramic and asphalt granules. This style is popular because it is budget-friendly and durable. Our contractors are experts at installing asphalt shingles, so call us to learn more.
Fake slate roofing shingles – The composite material of fake slate shingles gives the appearance of the real thing yet weighs roughly the same as asphalt. This style is more costly than asphalt shingles but less expensive than real slate.
Metal roofing – With options including steel, aluminum, copper, and other materials, metal roofs comes in all shapes and textures. It is lightweight and easy to install but can be expensive and noisy during rainstorms.
Why You Should Hire a Roofing Professional
Roofing your house is not a run-of-the-mill do-it-yourself project. While there may be a bevy of resources available to guide you through the process, you should not treat something as important as putting a roof on your house with the same nonchalance you would patching a hole in your wall. A roof is one of the most critical barriers between you and Mother Nature, so hire a professional to get the job done right. Among the many reasons why you should hire a professional roofer are:
Expertise – The professionals at Westshore Roofing Inc. have spent many years perfecting the craft. Our experience in this industry will ensure that your roof is secure.
Safety – We provide each of our contractors with high-quality safety gear to protect against any accidents that may occur during the process. Do not put yourself in harm's way by climbing onto your roof without proper equipment. Let us handle the job.
Materials – We use only the best materials to guarantee that our services last.
Cost-effectiveness – Because we buy in bulk and have cultivated relationships with suppliers, we can procure materials for you at a lower cost than you can at your local San Jose home improvement store.
Call Westshore Roofing Inc. for a Free Estimate Today
Our staff of professional contractors has unrivaled experience in this industry. We are capable of handling the entire process, from new roof installation to merely laying shingles and everything in between. If you need a new roof or simply want to learn more about your options in the San Jose area, call Westshore Roofing Inc. today. We are happy to provide a free estimate and explain everything you need to know about the process.
Call Today for a Free New Roof Estimate!